lesbiassparrow
A lot of time as a Who fan is spent assuring people that the monsters are
meant
to be scary. And that, yes indeed, you trembled before Daleks, whimpered at Cybermen, and
tried not to giggle
felt something at seeing the Brain of Morbius.
Monsters are also where companions come into their own. The decibel level of their screams lets you know how terrifying this monster/villain/bit of tinfoil on a stick is supposed to be.
Behind the cut is a brief review of some of the Who monsters. When you look at these please do remember that special effects in Who traditionally had a budget of about 50p most of which got spent on cups of tea in the canteen for the poor bastard who had to come up with the evil opponent of the week from eggcups, string, foam, and whatever else he could steal from rubbish bins.
The Black Guardian, who likes to hollow out birds and wear them on his head, so you know he is really mean. He's dark, I tell you,
dark
. Also he corrupts one of the Doctor's companions, Turlough, who likes to go around wearing school uniform, so perhaps kinky as well.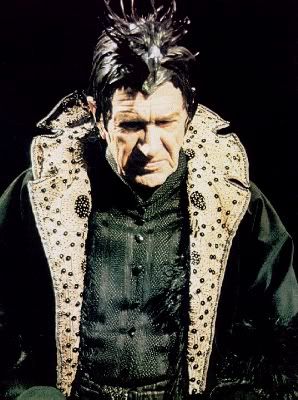 Autons! Living plastic operated by a hive consciousness, that bedevil Doctors Three and Nine (any others? I don't recall). Imagine a giant Ken doll with a hand that turns into a gun who hates you, and you've got the picture.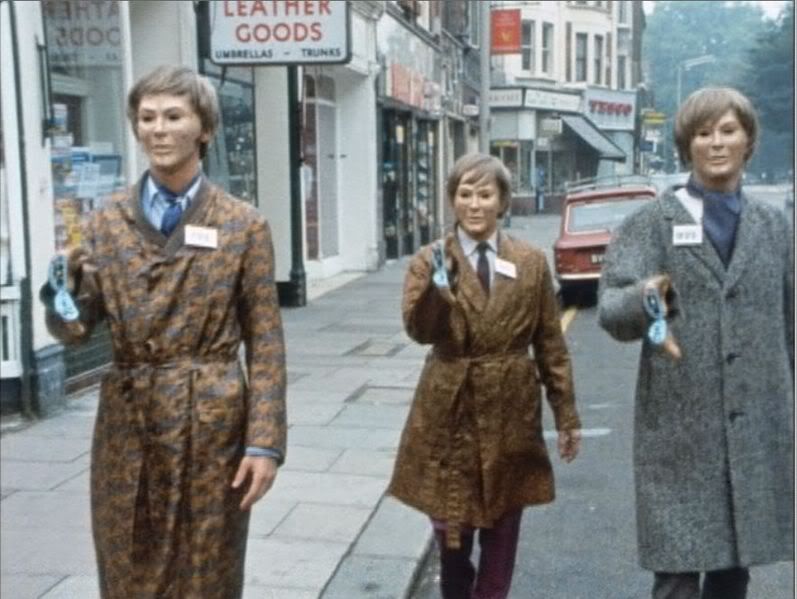 The Brain of Morbius. Doing what evil brains do, sitting in its jar planning nasty things for the Doctor. A renegade Time Lord (one of many), he's trouble for Doctor Four.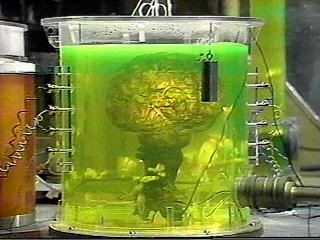 Also sometimes the brain is on a body thing, so he doesn't have to sit in that jar all day.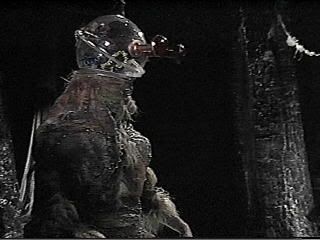 The Master. Another renegade Time Lord. Here he is smirking with evil nastiness. He's rather polite up until the bit where he kills you.
Later he decays for a bit. Not so smirky, but still full of hate for the Doctor.
Later
he takes up appearing in Broadway musicals
he appears in the TV movie, which fandom tries not to talk about. For obvious reasons. Here he is about to break into a nice tune to amuse us all.
The Rani. Yet another evil Time Lord. Or Lady. (I have a theory that there are actually no non-evil Time Lords, that Gallifrey was populated solely by psychopaths. Ask me about it.) I am not sure if this is her being sultry or smirking or something else. But I think she is plotting something nasty. Her and the Doctor had something going at some point, or perhaps not if you think that the Doctor is asexual.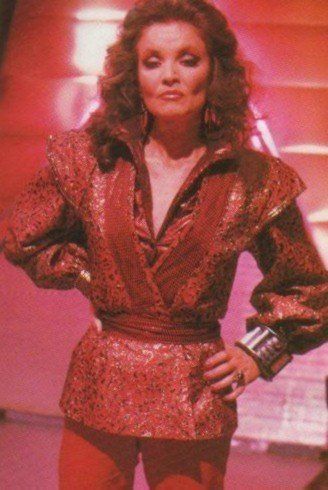 And one more evil Time Lord, who likes to pose a bit and is nasty to the Doctor. (It makes you wonder what the Doctor did before he nicked the Tardis.) This is the Valeyard, who gets the Doctor put on trial, but he's only covering for the other Time Lords, who did something nasty to Earth. (I think that's the plot.) See above for my belief that all the Time Lords are evil.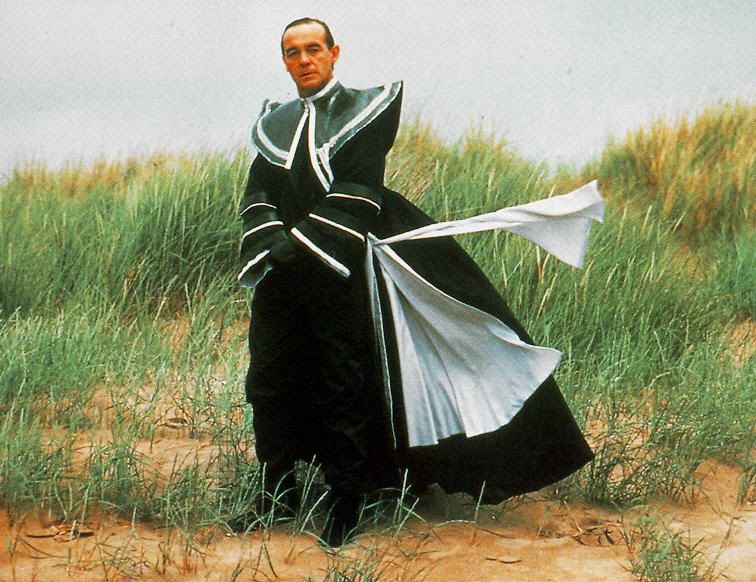 Some bloke in a mask, so you know he is horribly disfigured. He also totally fancies Peri, which combined with his homicidal tendencies makes the Doctor not like him.
Sil. He's an evil capitalist, so doubly nasty, and won't pay the right price for minerals. Also, he turns Peri into a bird thing, which is not very nice at all.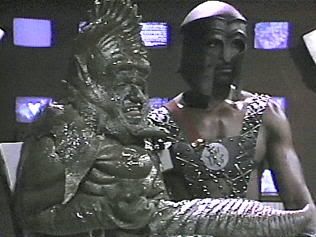 Though it
looks
like this bloke has decided for some strange reason to reenact Richard III dressed in bubble wrap, he has actually been infected by a Wirrn, an evil insect thing which is trying to kill off what is left of the human race, which Doctor Four has to deal with.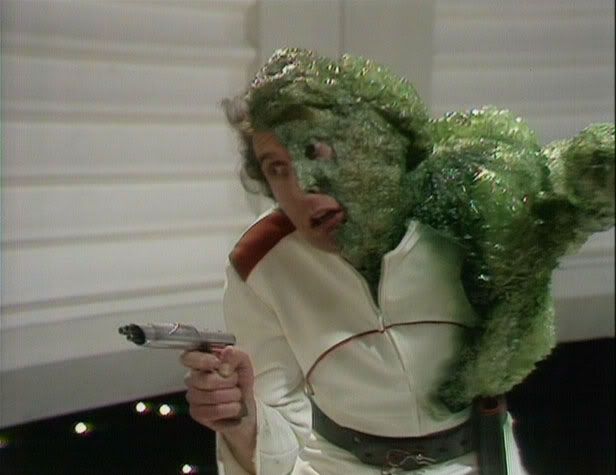 Here he is still even more infected, but still gamely doing that Richard III impression.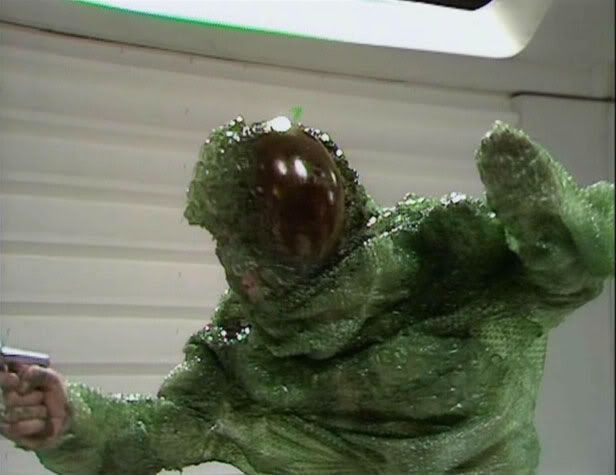 In his final stage.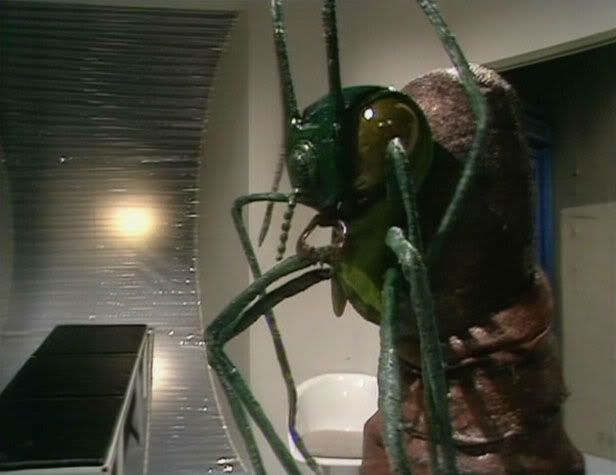 I can't recall who this one is, but I think we can all agree there is something terrifying about a bloke who dresses in quilted gold clothing.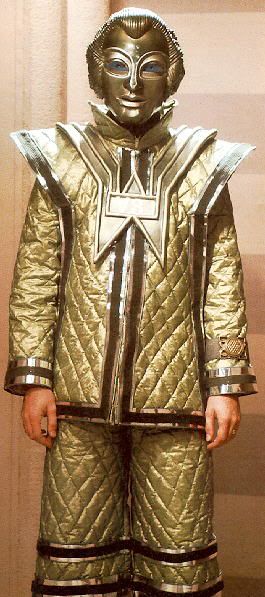 Sutekh! I love Sutekh, that roguish (and rogue) Egyptian deity. He wants to kill everyone, but don't they all? Here he is mind probing the Fourth Doctor, who isn't very happy about that plan.
Yeti! Confession: I haven't seen this episode, but I think they're such cute monsters, like overgrown Wombles, that I had to include them.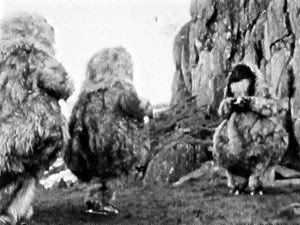 Daleks! Lots of them, from some battle or other. I think this is one of those lost episodes that the BBC weeps about when it thinks about the money it could charge for the DVD.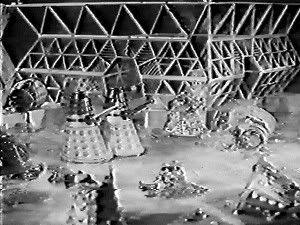 A single Dalek, looking threatening with its plunger of doom!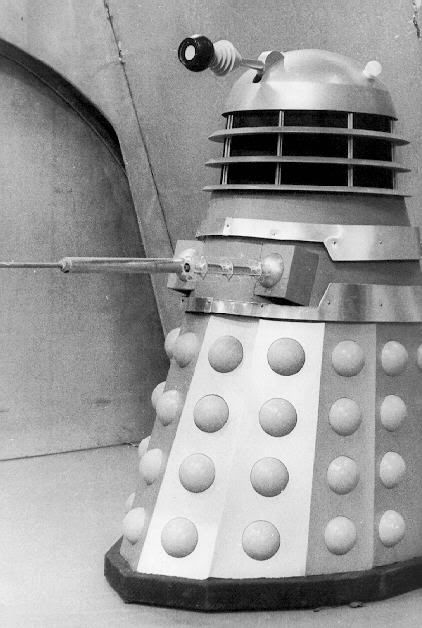 Another Dalek, doubtless saying one of three things: 'Exterminate!', 'My vision is impaired! I cannot see!' or 'Kill the Doctor!' These are not the villains you invite over if you want a nice intellectual discussion before they try and kill you.
The old school Emperor of the Daleks. He looks like a giant vacuum shute, but he is deadlier than...other deadly things.
Davros, the creator of the Daleks, who could do with buying better skin care products. The Doctor once had the chance to wipe his creations out, but didn't. I bet he's sorry for that one and wants to kick his Fourth incarnation for his ethics.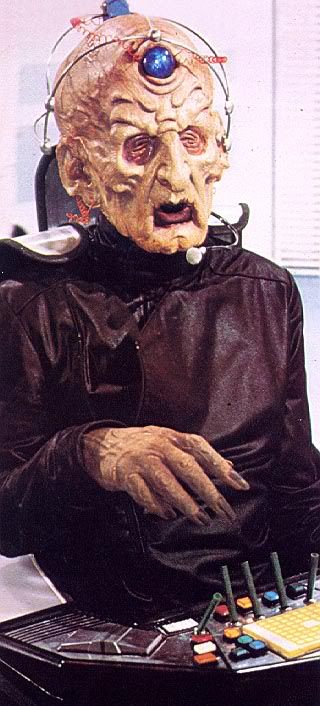 Oh, Cybermen. Part robot, part organic. All terror. Their controller has a super big brain so he is extra evil.
Sometimes the Cybermen get sad when they wonder if there is anything more than trying to take over the universe. And then they kill things and feel better.
A really cheap Cyberman, who couldn't afford more than bangages for his head. The other Cybermen make fun of him.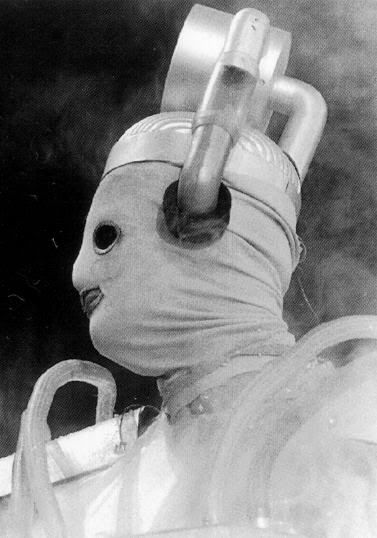 Cybermen reimagined for the new series.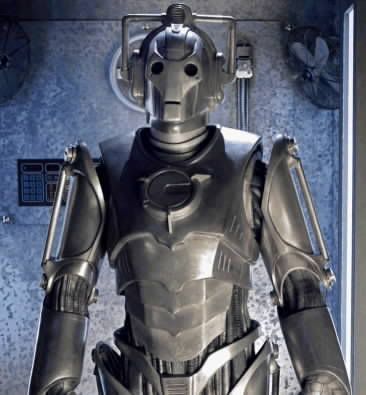 I don't think this bloke is evil, but he might be, so I'm including him.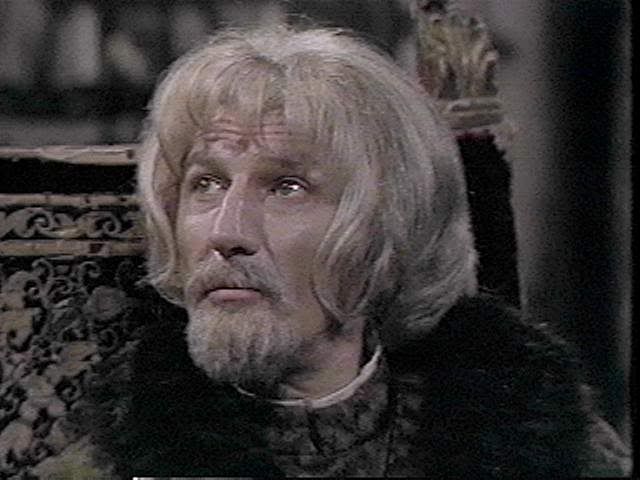 Light from Ghost Light. I know he was evil because they said so on the episode, but I'm not sure how because I didn't understand the plot. I think it had something to do with evolution. Or making Ace dress up in period costume.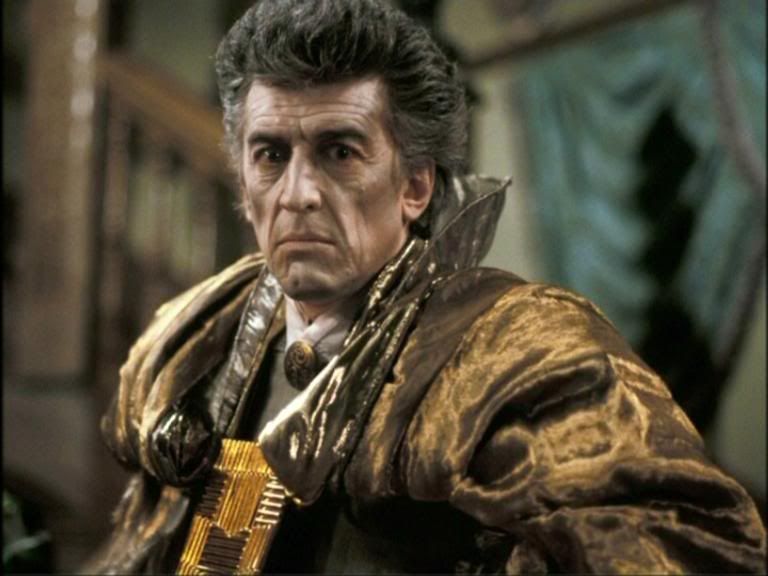 Slitheen. A family of green aliens who like to dress up in human outfits. And try and destroy the Earth so they can sell bits of it. They may be related to Sil, especially as they have wierd bodily function issues.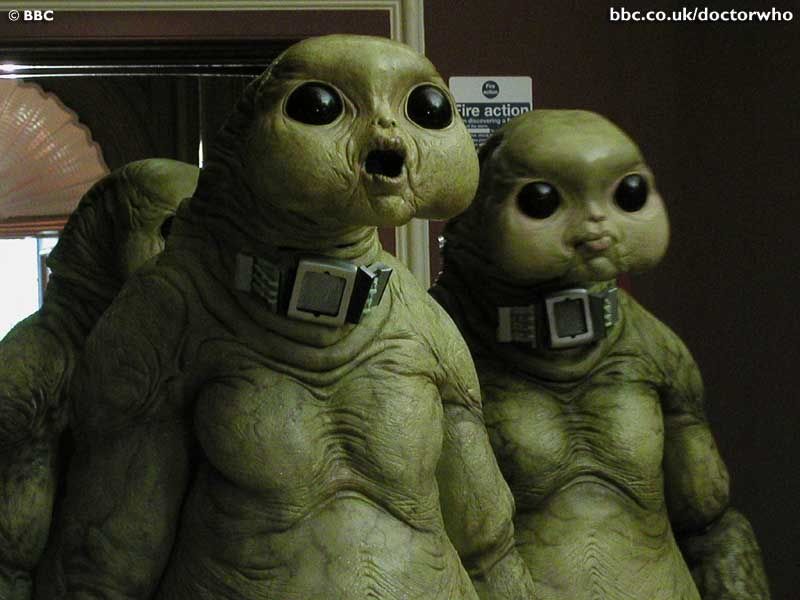 The Gelth are all nice in the beginning, and Nine is so very sorry that he wiped out their planet with his big bomb in the time war, that he offers them dead human bodies. And then they turn nasty and try and kill him and Rose. You'd think he'd learn after all of this time: do not trust the aliens who say they bring peace and love. They only want you for your body.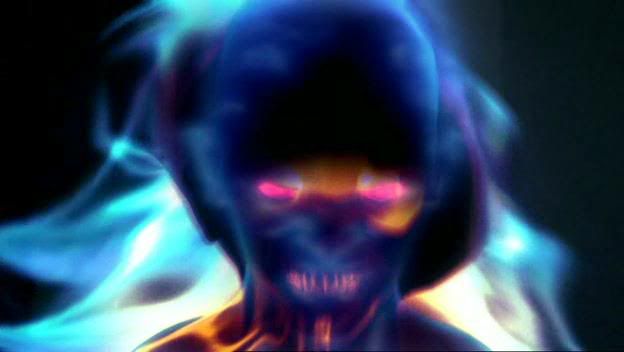 Some nasty people menacing Two. Because I like Two and he looks good when being menaced, even when all you can see is the back of his head.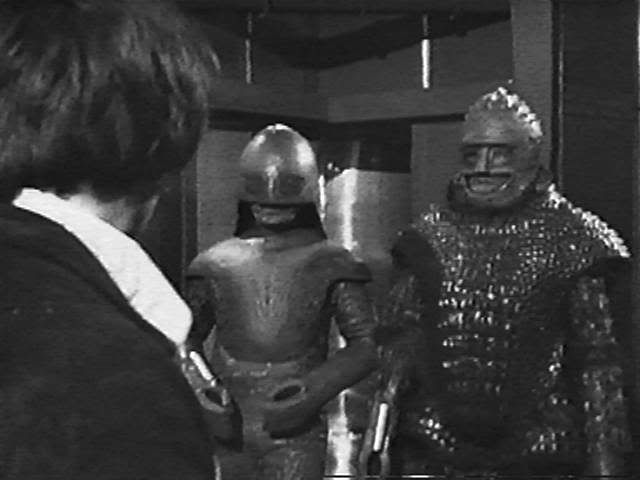 I know I've missed tons, but the Doctor picks up enemies the way other people do chewing gum on their shoes.