lesbiassparrow
Here is the promised picspam of the gayest and socialistest Son of Hercules who ever breathed. Really he was - most of this plot was taken up with loving shots of him and his sidekick, Bangor. The rest of it was about stopping the evil Molemen oppressing people and forcing them to work in their diamond mine and not believing in the freedom of man.
Sadly the quality of the film was not great so some of the more stirring and actiony scenes could not be screen-capped. And the caps I got weren't so great.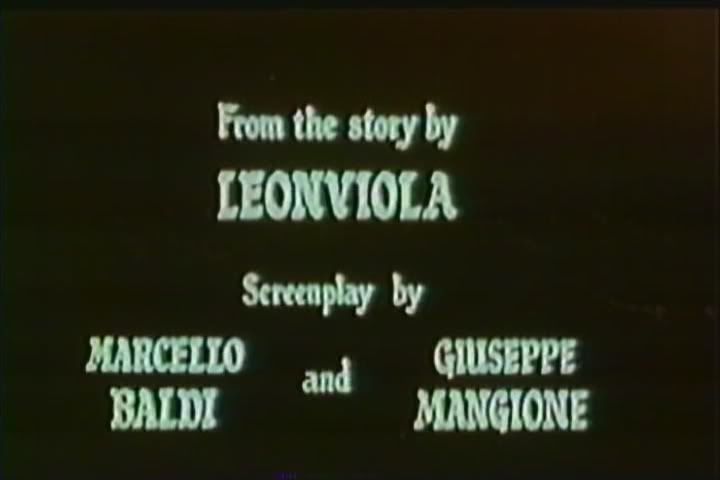 This is the name of the mighty genius who not only came up with the story but also directed this amazing film. Truly one of cinema's auteurs. I was particularly fond of the way a jaunty song, reminiscent of the Gilligan Island's theme, played over this opening.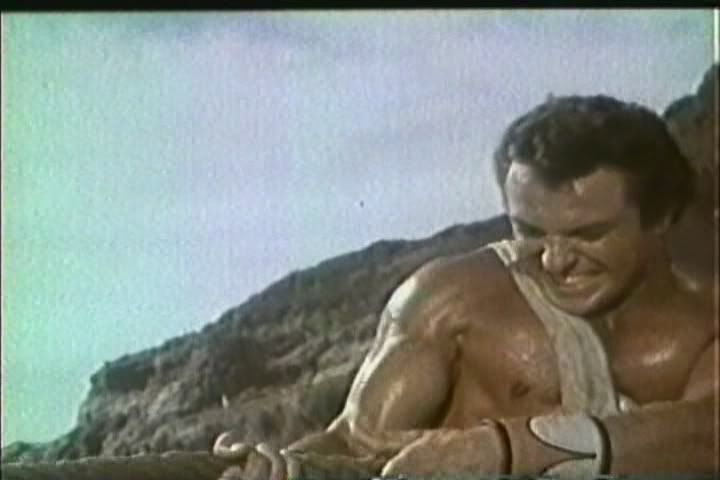 Here is the first shot of the mighty Son of Hercules. I knew he was mighty before I even saw him because the song told me so.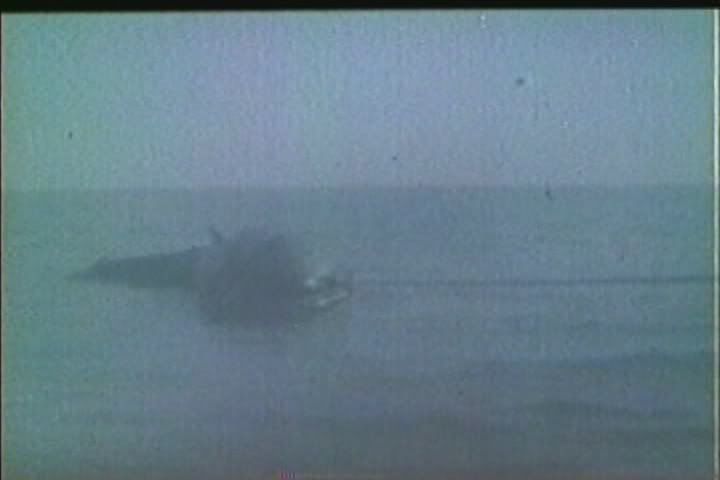 You can't really see in this picture but the thing he is labouring to haul in is a whale. How or why he harpooned this innocent creature is left a mystery. I think he did it to prove his deep manliness. Oh, Son of Hercules, you don't need to prove anything. You can be a manly gay socialist you know.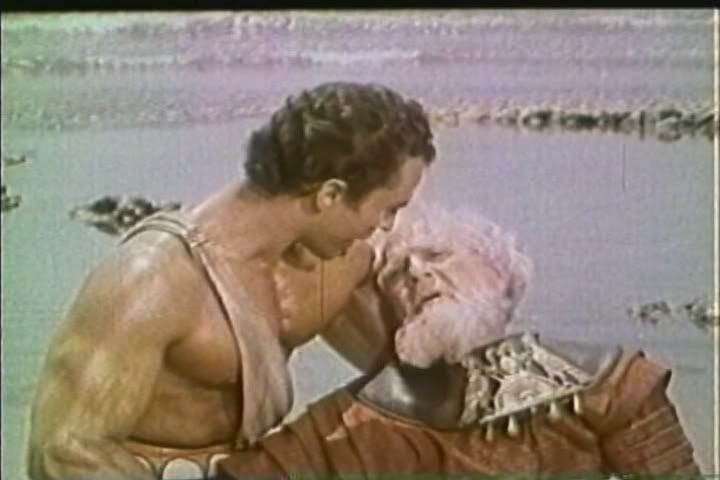 I am afraid it was too difficult to take a decent shot of the first thrilling sight of the Molemen because of the state of the film so here is a touching picture of Son of Hercules cradling the first of their many victims. They were right bastards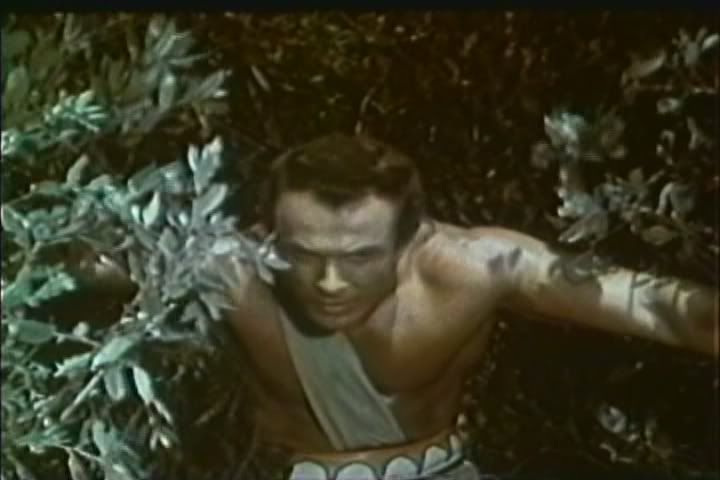 Hearing of the evil doings of the Molemen SoH (who is called Majestus) goes to find them and wreck mighty revenge upon them for killing innocent people and destroying villages and things like that. Here he searches for them in bushes.
SoH leaps into action! There is fighting and blood and dead Molemen. If your feelings are one of disappointment and sadness that the Molemen are not actually dressed up as moles then they match my own. Instead the Molemen are albinos who are killed dead by the sun which I feel is not nearly as thrilling.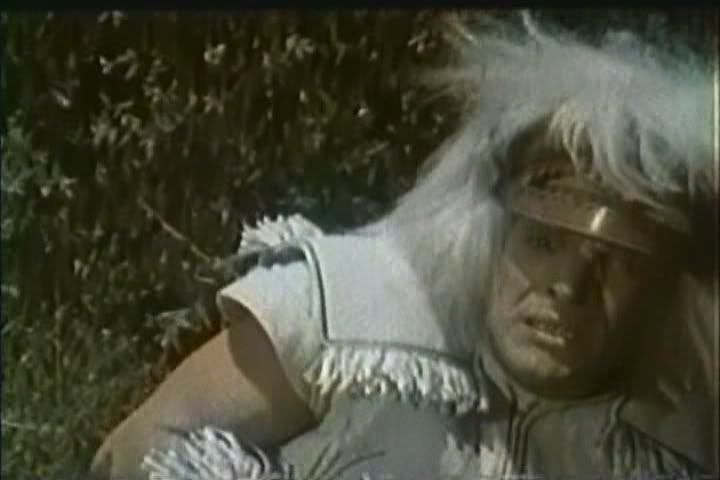 This guy turns out to be an Incredibly Important Moleman. He is no doubt realising that this will only turn out to be one of many times SoH goes all stompy and killy on Molemen.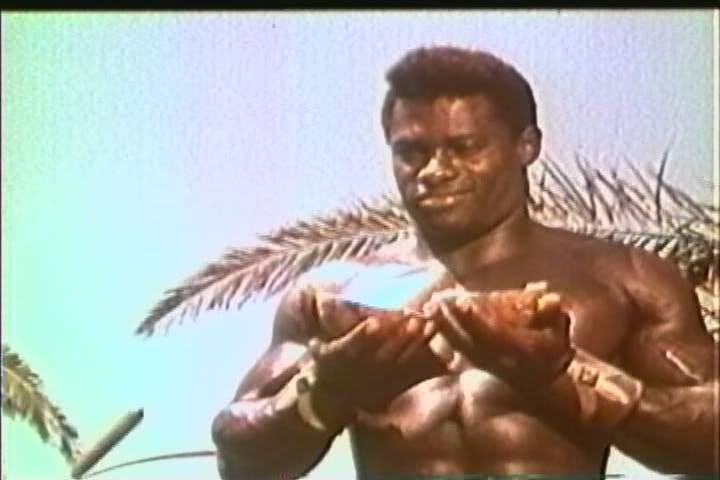 This guy, Bangor, is also very important because he is the lover of SoH. Or, at least, that was the message I got from the film. I am sure I am right. Look at him, all oiled up and offering coconuts to SoH for saving him from peril. There are so many breast jokes I could make about this shot but I am above such things so I will not.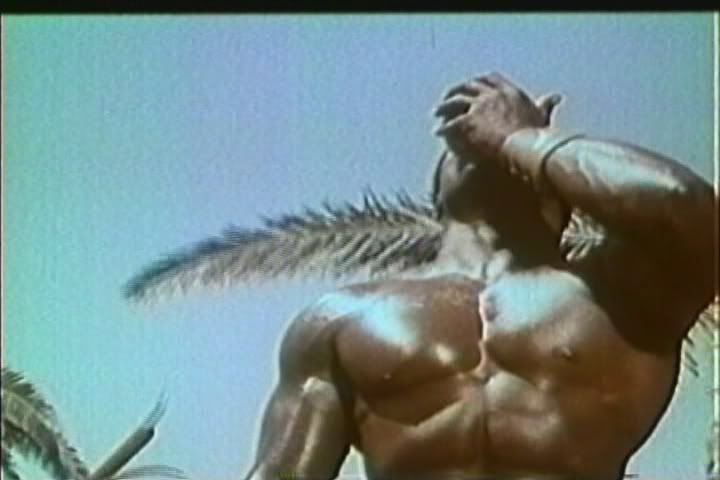 Yummy, he says.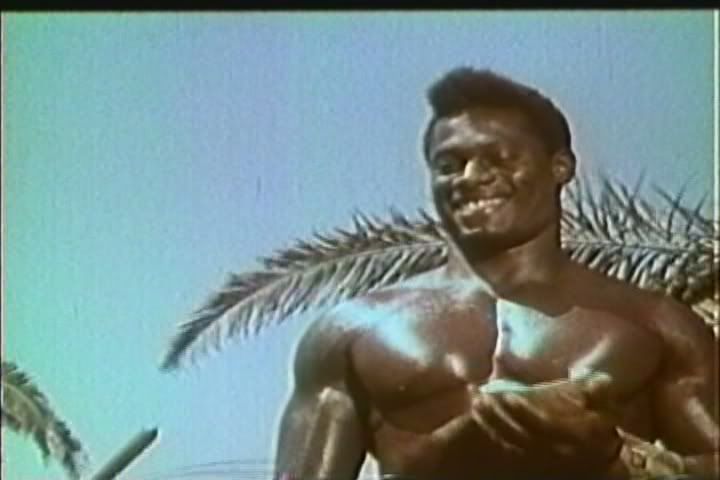 This is not all my obsession: the camera dwelt lovingly on his chest as he kept waving those coconuts
Can't you see it's love? I think this is the bit where SoH talked about all men being free and equal. It was very socialist and Spartacusy.
Handholding! Awww.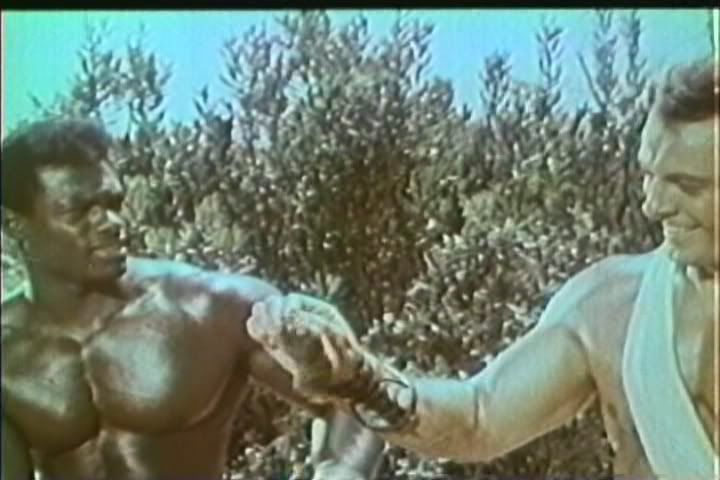 Then there is some joking about moles. I didn't get it, personally but I bet it was funny whenever this film was made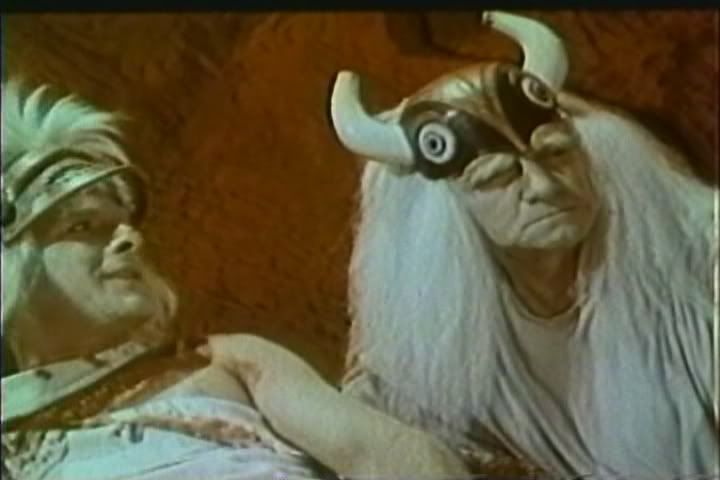 This is the important Moleman from before and his dad the chief ugly helmet wearer. Apparently this was a key role in Moleman society because this guy was everywhere.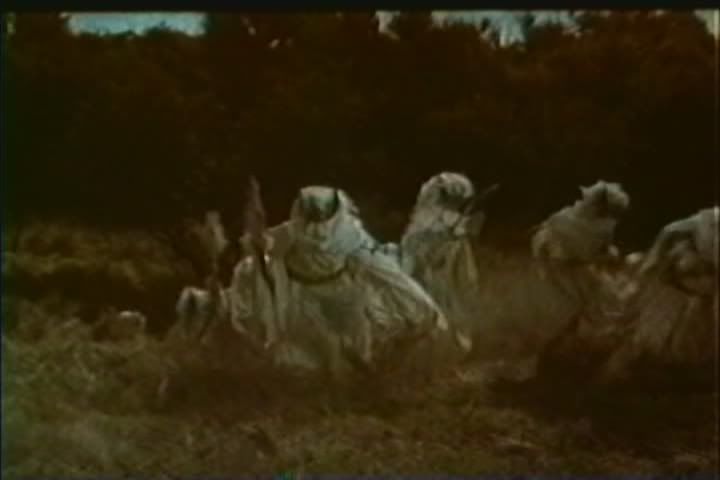 Molemen on the rampage and in hot pursuit of SoH and his lover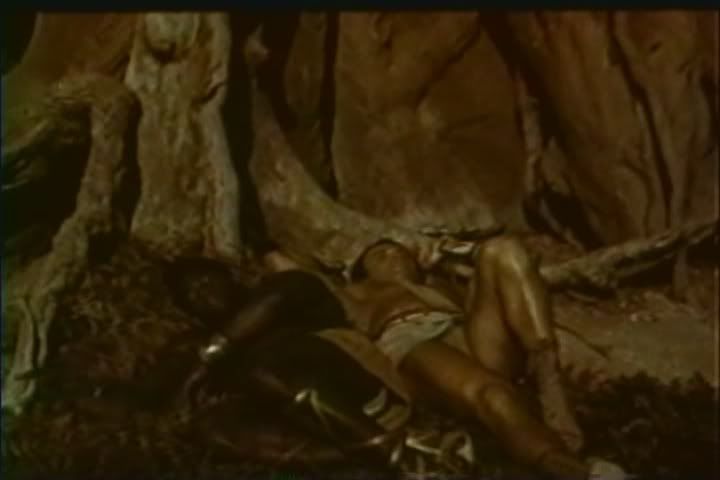 Look at this shot of the two of them and tell me that these are not the gayest gay lovers of ancient myth.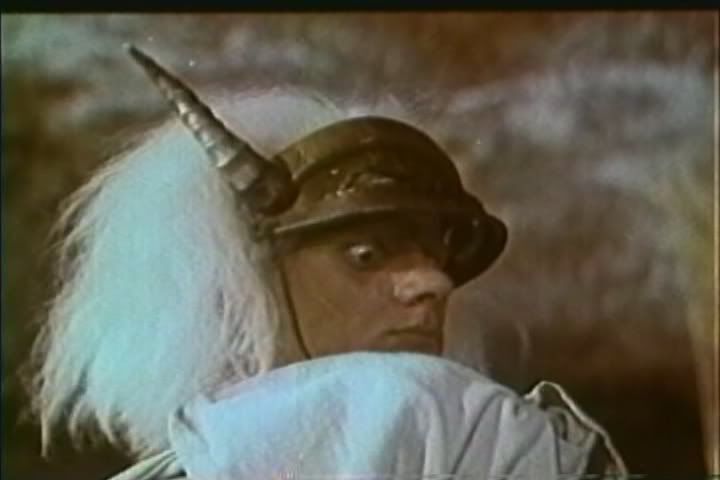 I can't remember what was going on here. I just like the way this Moleman's eyes boggle.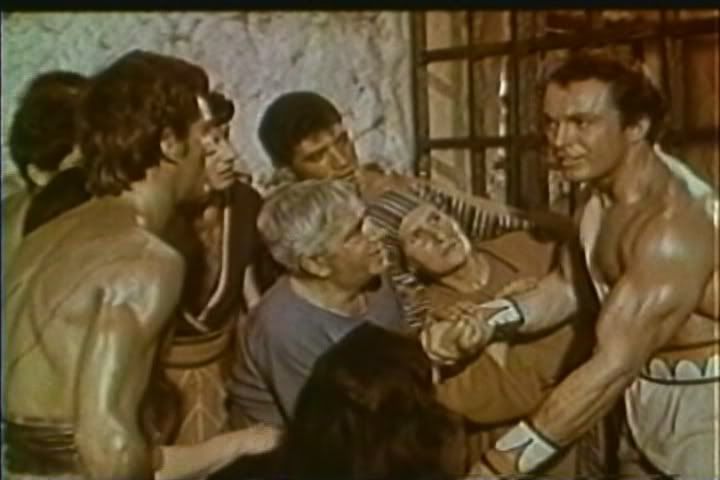 SoH and Bangor allow themselves to be taken captive so they can find their way to a new source of gay lovers. And also liberate the slaves and stop the evil capitalist plots of the Molemen. (Remember: gay and socialist)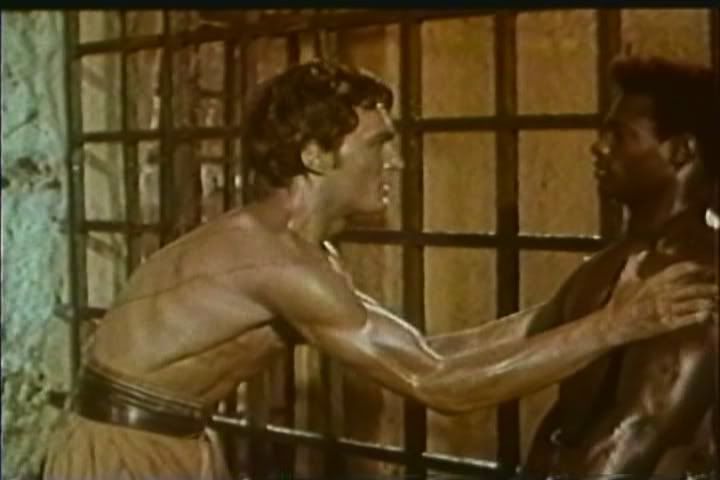 This guy is taking the opportunity of pretending to be upset about some lost princess that Bangor was supposed to be guarding to feel his muscles. And who can blame him?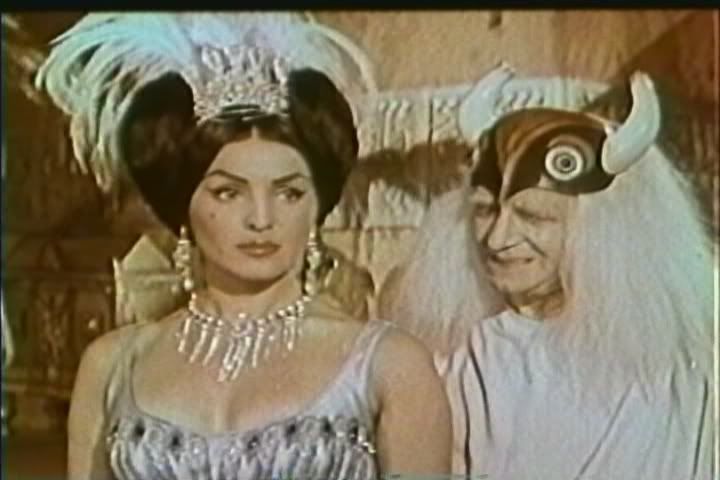 Of course the Molemen have an evil queen.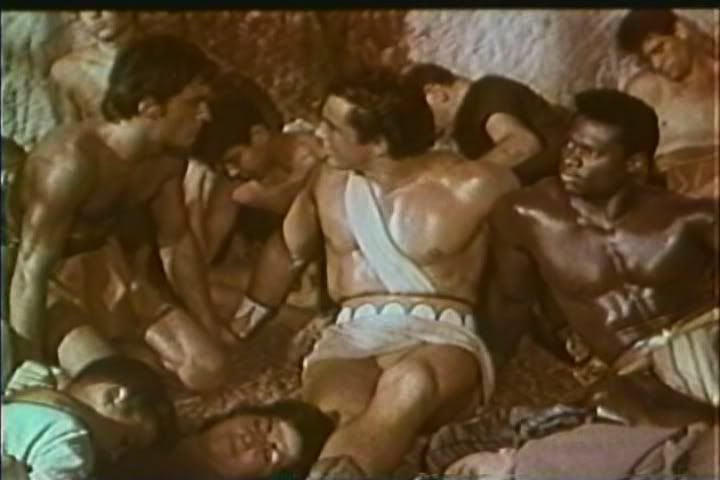 Here's SoH and Bangor lounging suggestively in jail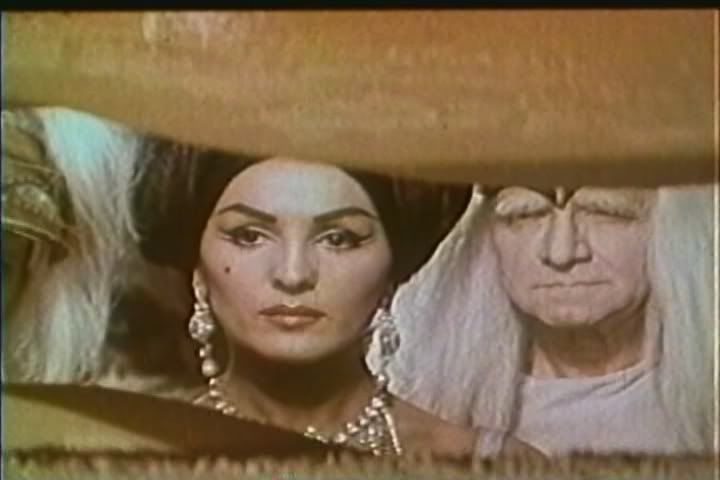 Evil queen likes to watch and admire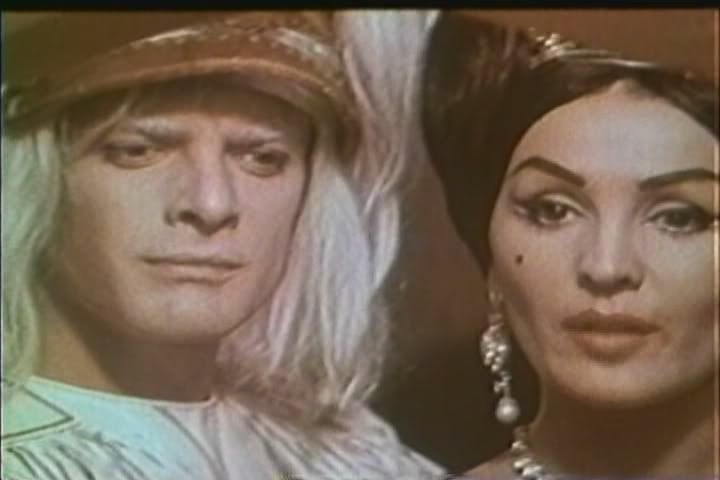 Really Important Moleman is not so happy as she finds SoH rather enticing. No, evil queen, he belongs to Bangor!!!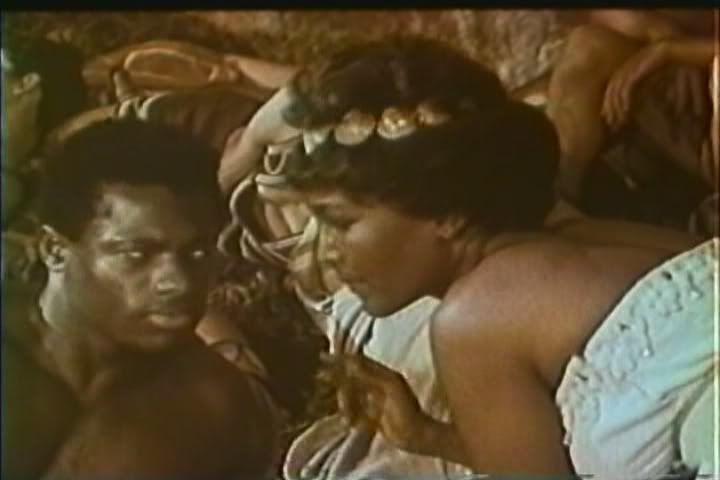 Hmmmm... Bangor also seems to have a bit on the side. Nooo, don't break SoH's heart, Bangor!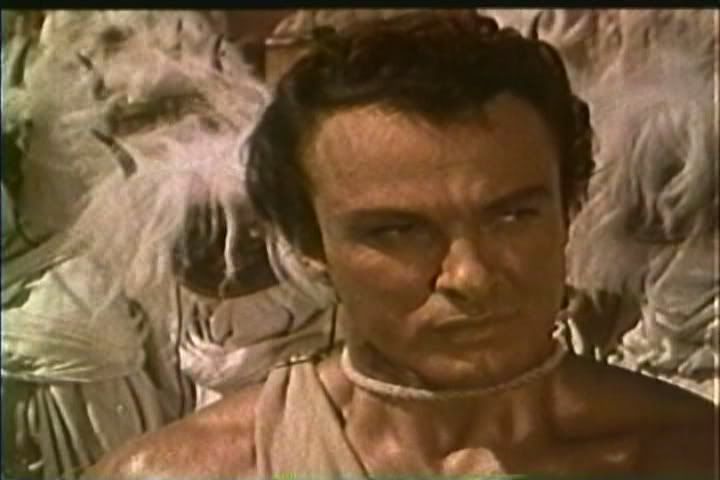 Poor SoH! Look at him all chained up and sad
Really Important Moleman feels very cocky with a tied up SoH and an exciting helmet.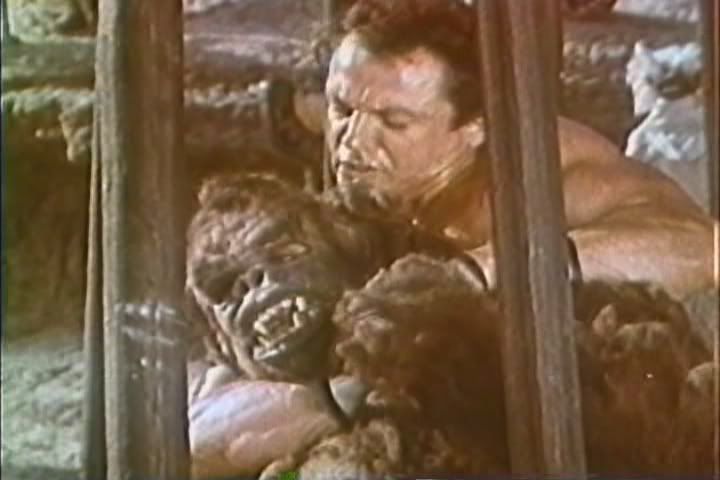 Then for some reason SoH wrestles a man in a gorilla suit. It's about as well done a scene as you'd imagine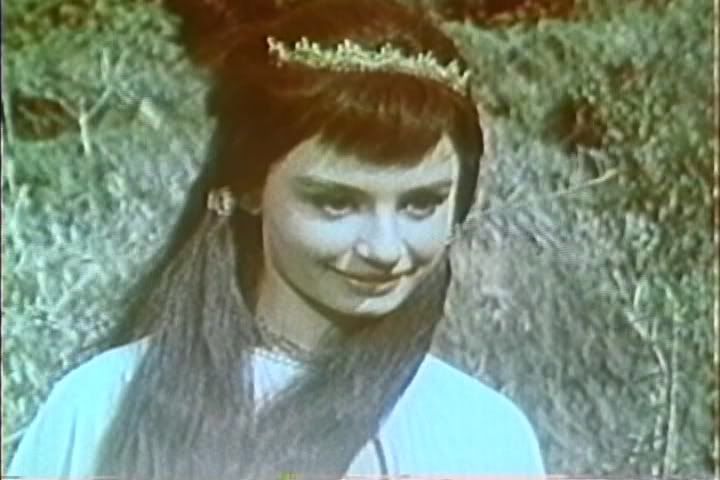 Oh yeah, this is the half-witted princess SoH frees
And here's some handmaiden in an exciting headdress explaining to the evil queen about how totally lovely the sun is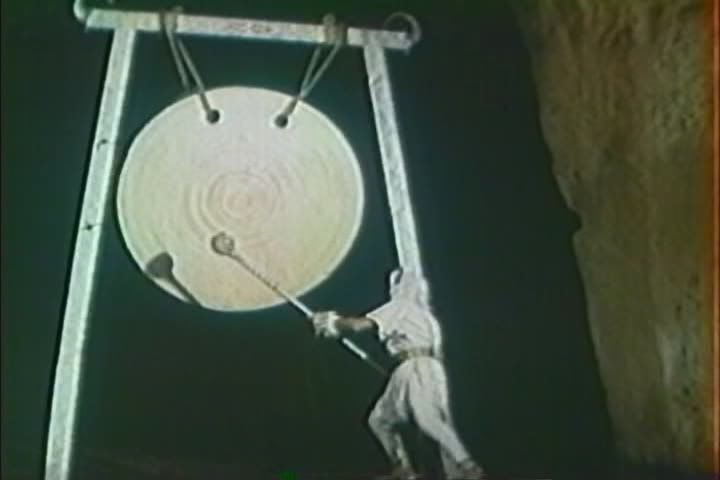 A Moleman strikes a gong to signal an incredibly important scene coming up
And that's the evil queen's seduction of SoH.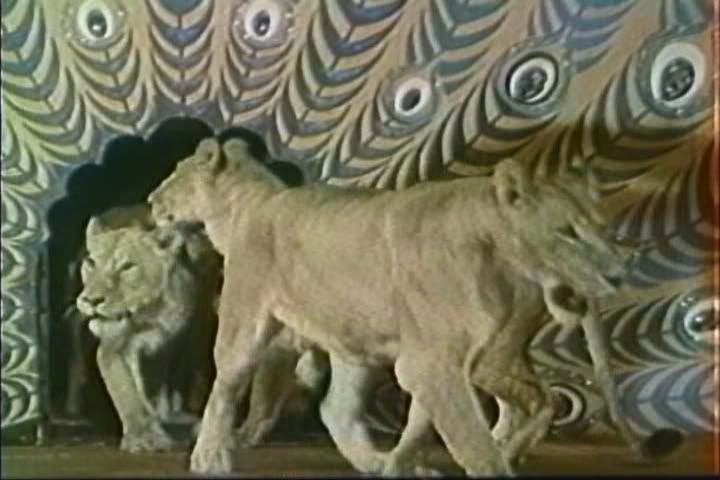 This is followed by a savage attack by the sacred lions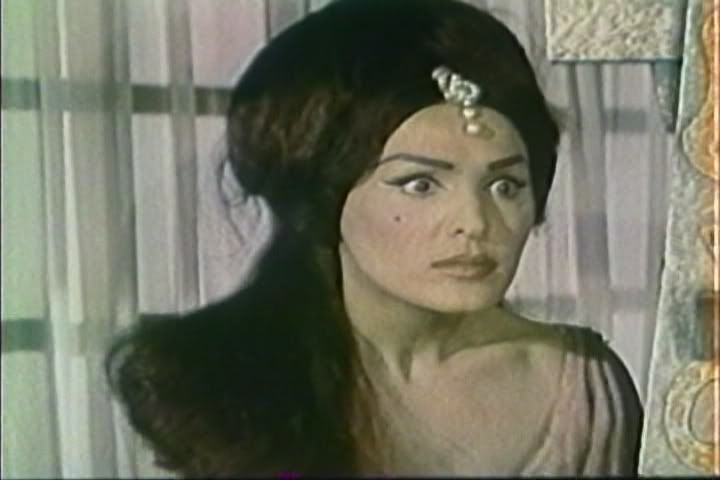 The evil queen cannot believe her eyes! Not the sacred lions!!! Sadly she is saved by SoH who asks her to stop oppressing people and forcing them to work as slaves.
Exhausted by all this heroism SoH retires to a single bed to dream of Bangor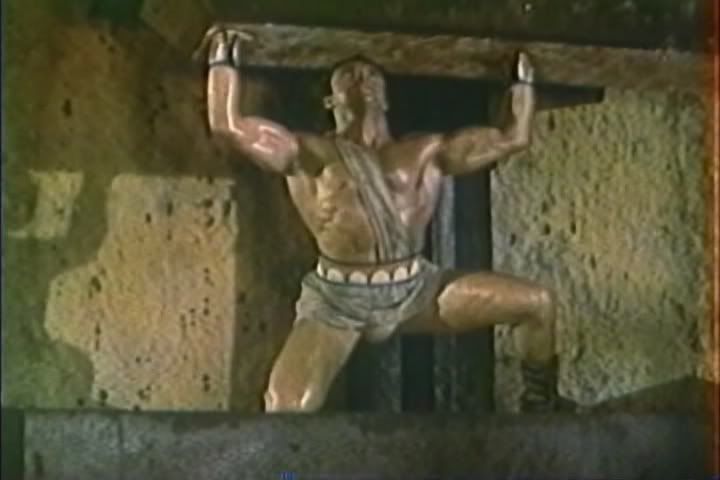 After some stuff I couldn't screen cap SoH has to indulge in an incredible feat of manliness to save Bangor and some other guy. Please note the gratuitous inclusion of SoH crotch shot.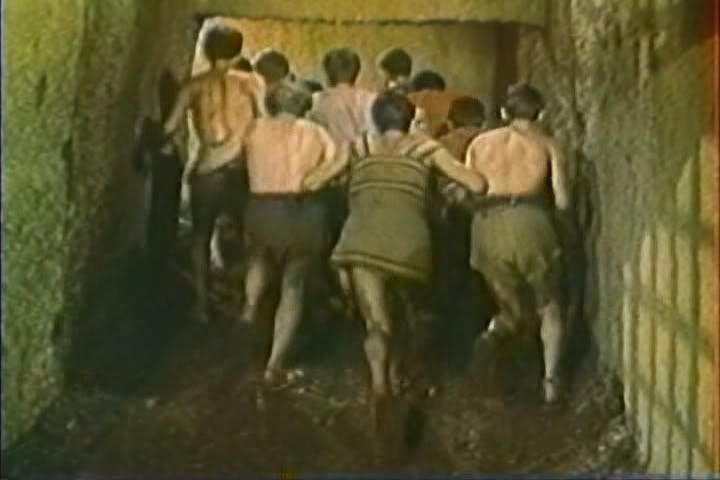 Then all the slaves are freed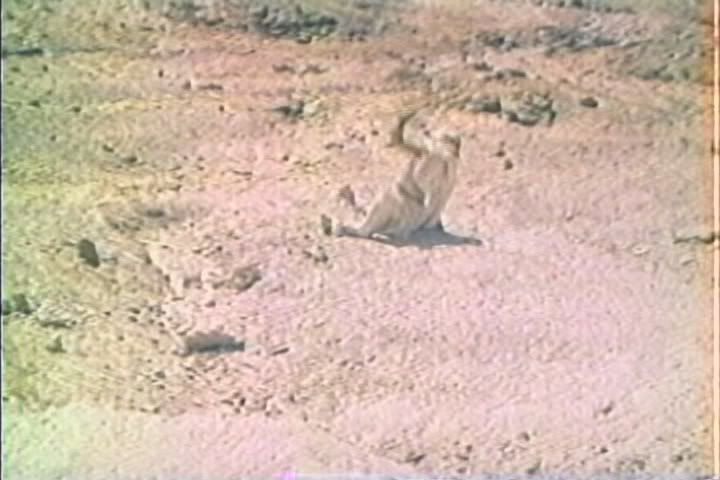 Incredibly Important Moleman dies in the sun. As he should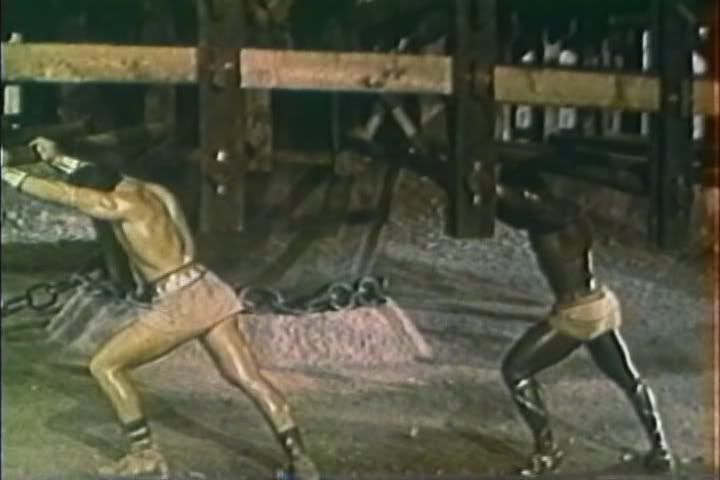 SoH and Bangor do manly things together because they are in love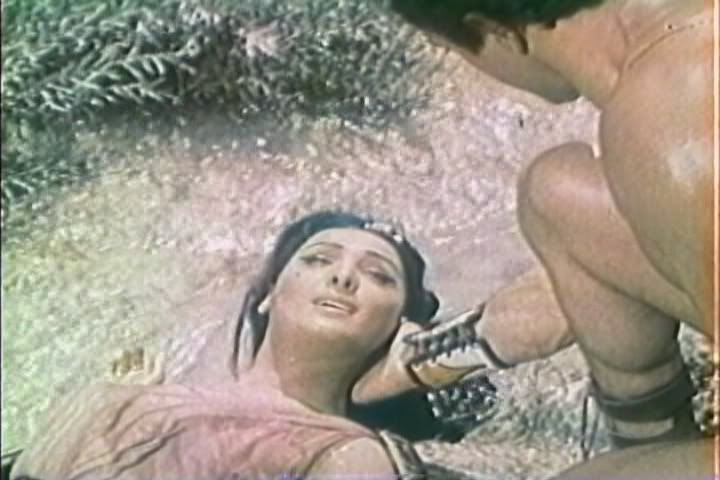 Evil Queen dies for interfering in their pure and deep love. See? This is what happens when you try and get between a Greek hero and his sidekick.
And they all lived happily ever after. Except for the Molemen who were all killed.