lesbiassparrow
I watch a lot of rubbish. A
lot
of rubbish. But sometimes I find* a show so bad that it needs a post with pictures to share the glorious awfulness of it all. Here I bring you
RH+
a story of gay teenage vampires who fight crime in modern Japan. And are watched over by a really creepy older vampire who likes to do a lot of wrong touching. And there is (as an added bonus) cross dressing as school girls.
No, there is no lower that my viewing can go. I am a bit impressed by that.
You can tell what sort of show this is going to be by the girly lyrics. 'Your voice and the warmth of your hands are in my heart right now'! What self-respecting vampire would have this as a theme song? Gay, teenage vampires, that's who.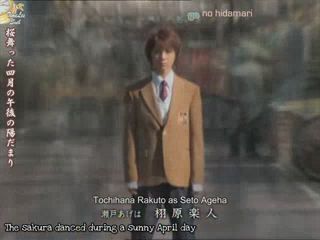 The girliest vampire of them all. So pretty and so devoted to his boyfriend: when the boyfriend gets harmed he does a lot of homicidal...shaking. Yes, shaking.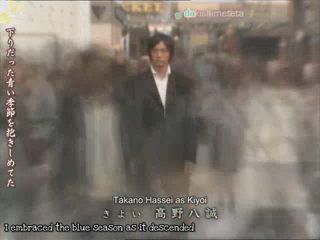 Here's the guy who looks after the vampires for a mysterious 'Mister.' The lyric here is very fitting as he also likes to do bad, wrong touching and is all round quite creepy.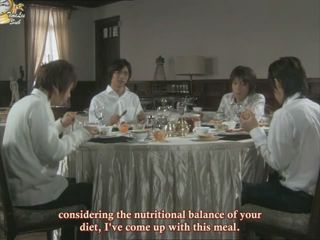 This show was made on a budget that makes the money spent on the old Doctor Who look lavish. I think they blew the budget for this episode on the breakfast. In a 30 minute episode this took up some 10 minutes. But it's nutritionally balanced!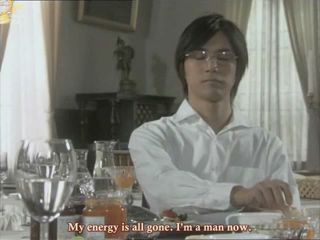 This picture is just here because I like the subtitle.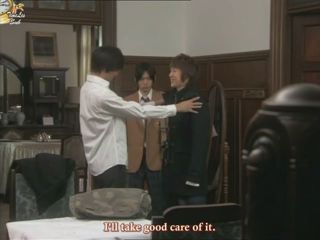 Creepy, wrong touching. Head vampire has bought the two boys coats in a blatant ploy to get a bit of a feel.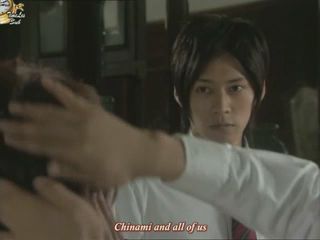 Here he's fondling the girliest vampire's hair as youngest vampire looks on and pouts.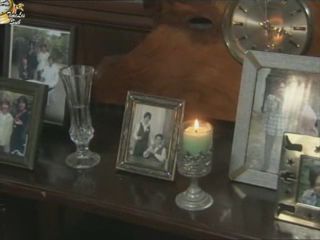 Of course, he has pictures of them all. Where he leaves white roses.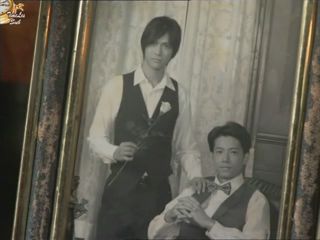 I suspect this is 'Mister.' How romantic!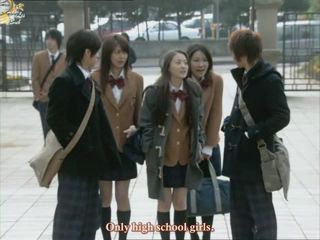 High school girls make fun of girliest vampire and suggest he will be the victim of the mysterious man who is preying on pretty young females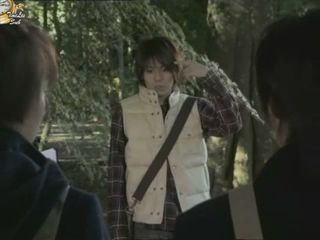 This gives the bad-boy gay, teenage vampire an idea.
It involves the girliest vampire of them all wearing a school girl's uniform. Here he is as they check to ensure that everything is still there.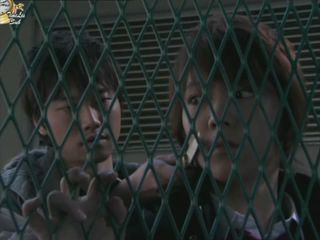 Evil guy takes the bait!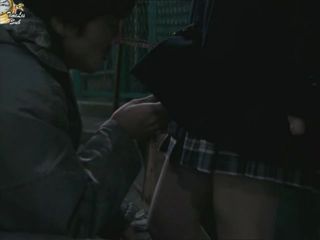 He too, checks down there.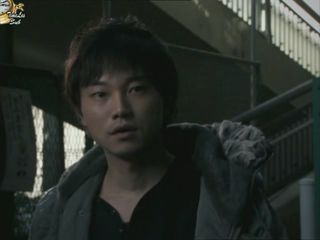 But is less delighted than the others. Then there is a rumble where boyfriend of girliest vampire gets hurt. Woes!
Pretty, pretty boyfriend! Who would hurt a boy like that? Only a monster.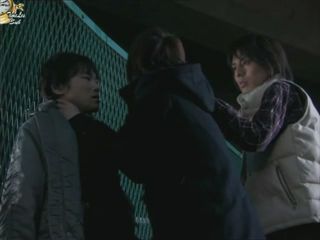 Girliest vampire unleashes the homicidal shaking!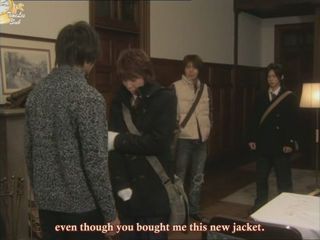 Then they all go home to creepy, older vampire.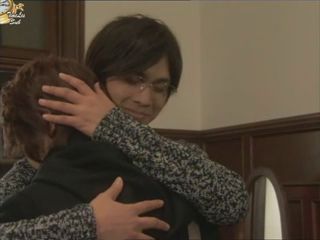 More wrong touching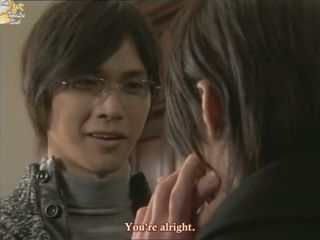 But creepy, older vampire doesn't play favourites! He'll wrongly touch them all!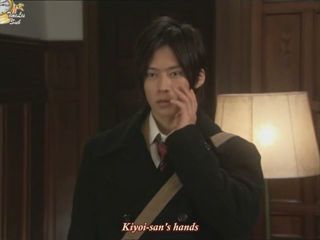 Youngest vampire doesn't seem to mind. He'll soon learn.
Then they all eat a lovely dish made out of bear guts. Yep, that's right: bear guts.
In the next episode there is kidnapping of youngest vampire by evil highschool girl. I CAN'T WAIT.
*I forgot: credit must be given where credit is due! I would never have found this wonder of modern television without

calixa
. I'm blaming her for all of this.