lesbiassparrow
So, I was going just to post about how after I sort of embraced the dumbness of the decisions make in the Atlantis universe and enjoyed a batch of episodes the writers made me loathe McKay and that new doctor lady with the last episode of season 4 (well, with McKay I just loathed him more). But I thought that before I ranted about that I would post a picspam of the season two episode 'The Long Goodbye,' because I really loved that one. In this episode Elizabeth Weir, due to the Stargate Atlantis' team usual brilliant thinking, not only gets possessed by an alien entity but manages to convince them to allow Sheppard to be possessed also. And then she tries to kill him. *sigh* It is a beautiful thing to watch.
First Elizabeth gets possessed by an energy ray thing from one of a pair of alien coffins.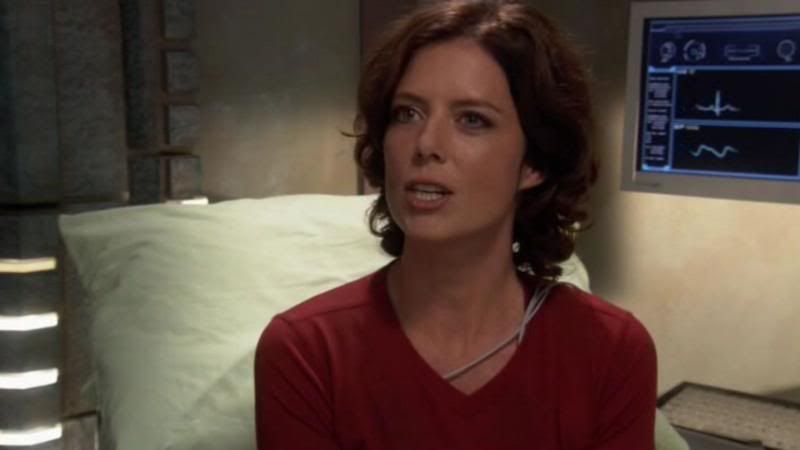 Then somehow 'she' convinces them to let true love have its way and allow Sheppard to be possessed also so that these entities can say goodbye. If you think that's a really stupid thing to allow, then you're right. Sadly, your intelligence means that you would never, ever fit into the Stargate Atlantis team where stupidity is valued and cherished like a precious flower.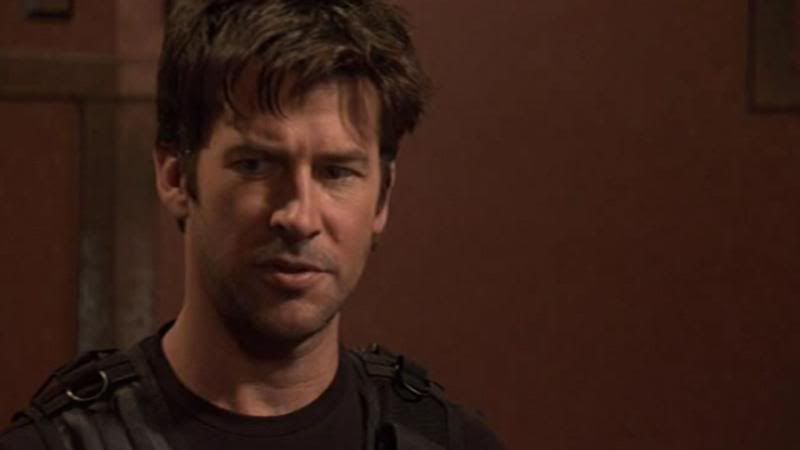 Sheppard has a moment's doubt.
But McKay thinks it's romantic. By the way, he's supposed to be the smart one.
This is the gnarly old guy that Sheppard will be possessed by.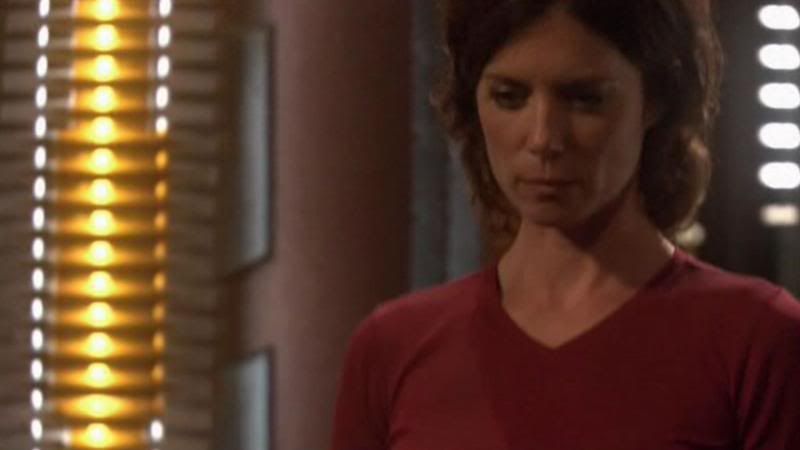 'Elizabeth' looks a bit shifty. As well she might because she's plotting devious things.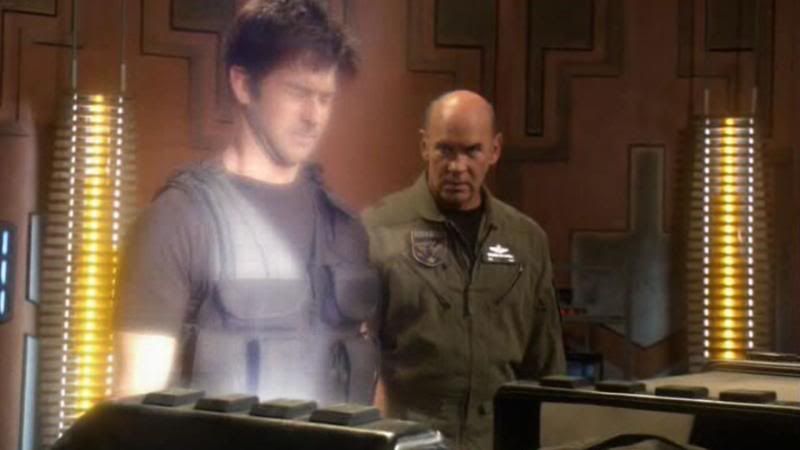 Then there's the alien possession.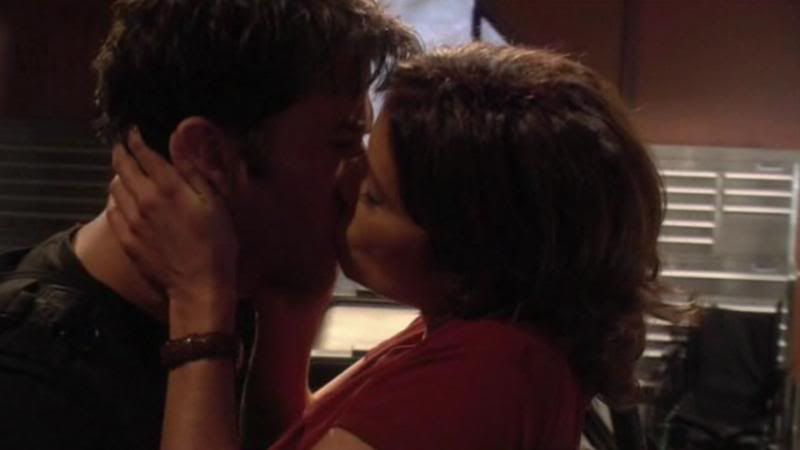 Followed by the snogging.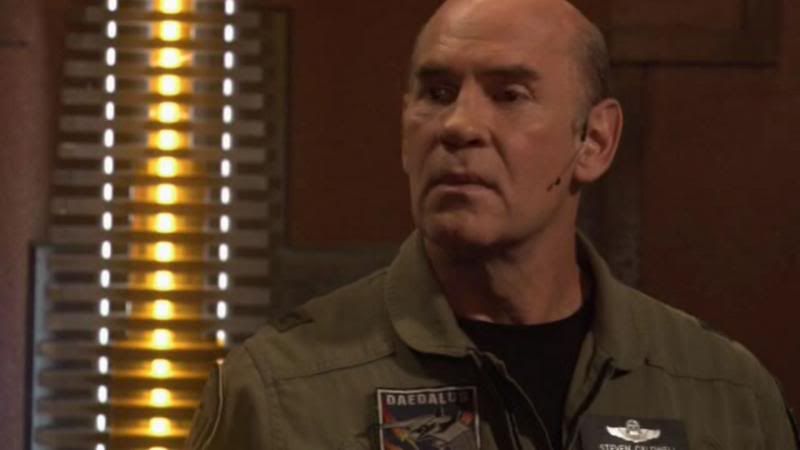 Everyone looks a bit shocked. Starting with Colonel Caldwell.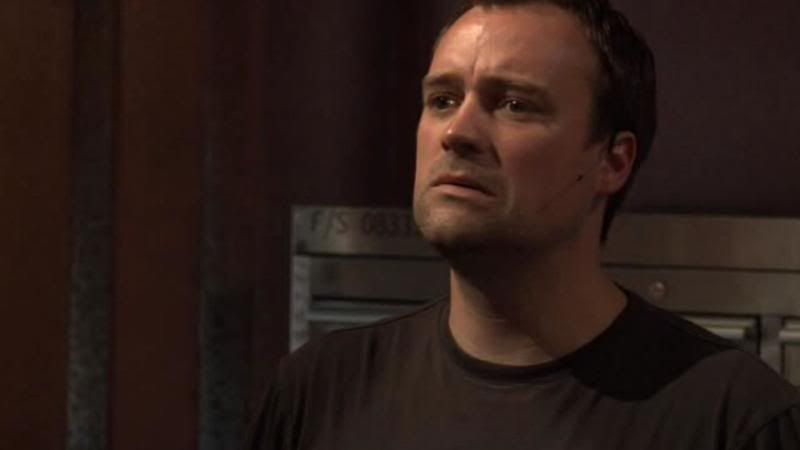 Rodney wonders why no one wants to snog him. Let me tell you why, Rodney: you're the most genuinely annoying person I've ever seen. I have never so frequently wanted to stab a fictional character.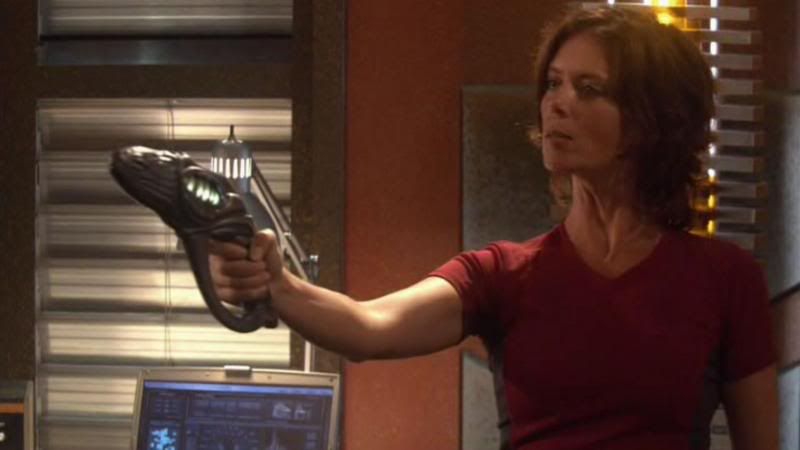 Suddenly there is gun-pointing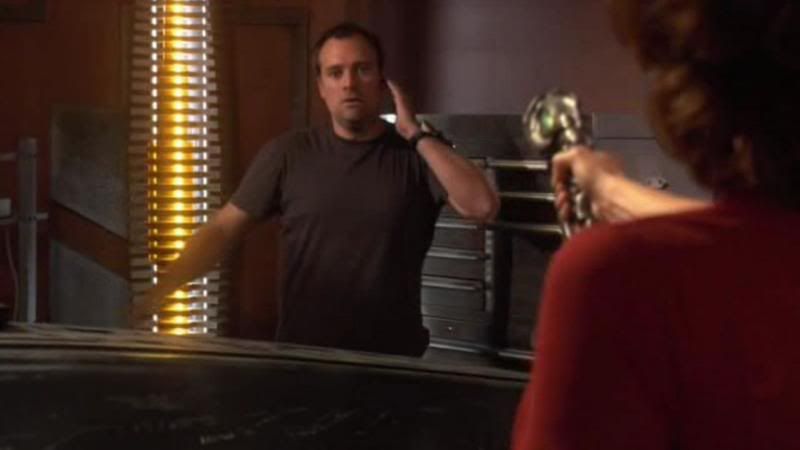 And then there is a wonderful scene where Rodney gets shot by Elizabeth. You would not believe how happy this made me.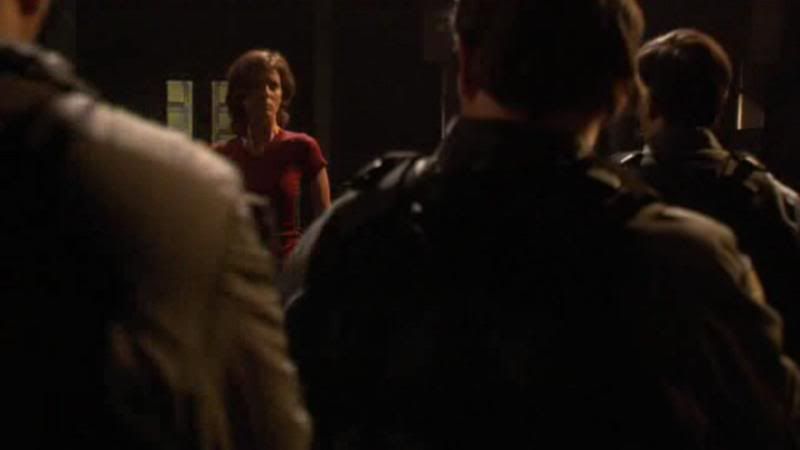 After an attempt to kill Sheppard, Elizabeth runs wild for a bit. Then she gets surrounded by marines.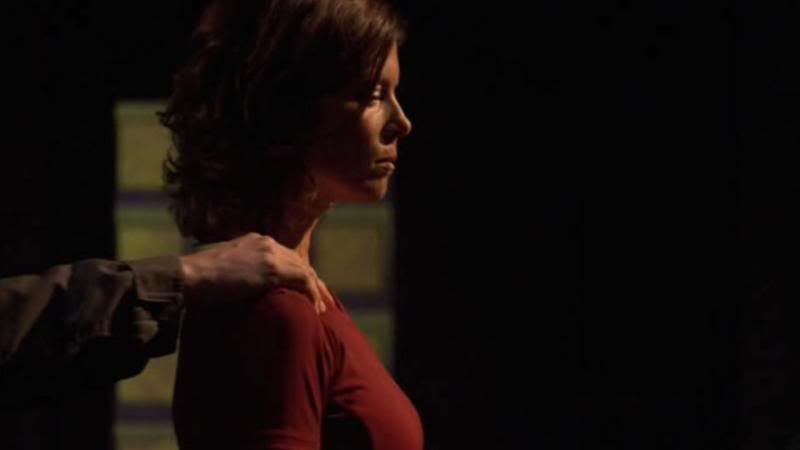 Nobody, not nobody, touches evil possessed by an alien Elizabeth Weir.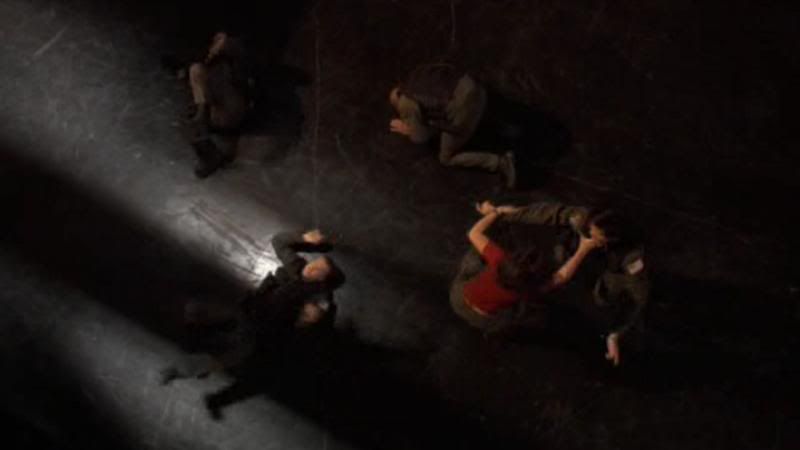 She pwns them all.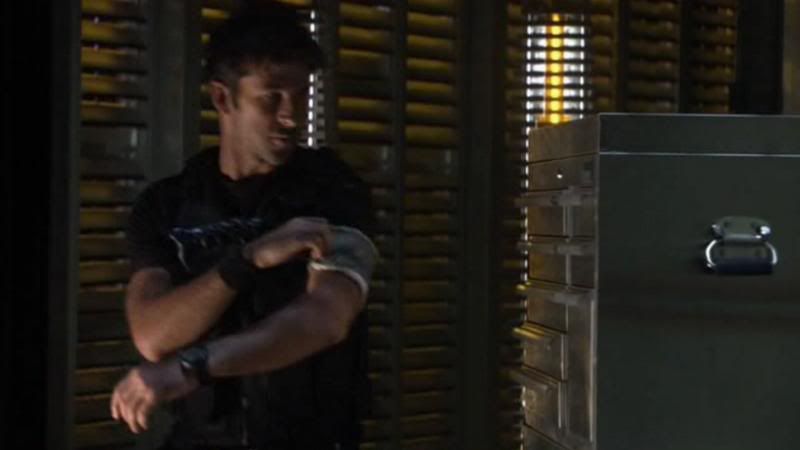 Then there's some stuff with Sheppard getting wounded. It's not very interesting.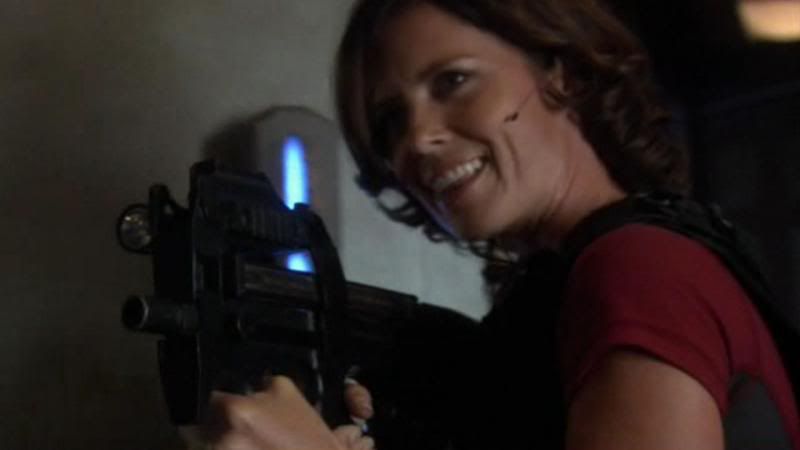 Until evil possessed by an alien Elizabeth taunts him for a bit. I liked the taunting.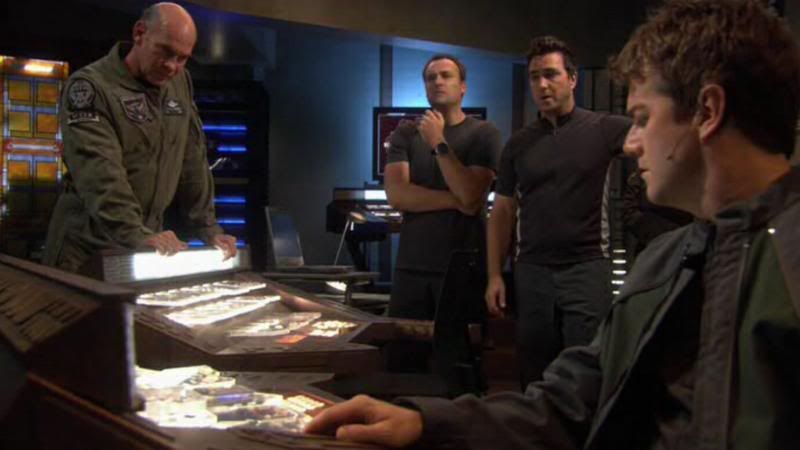 Everyone wonders what happened to their lovely romantic scenario. It's a sad thing to have to relate but they will learn nothing from this experience.
Elizabeth does something nasty with a computer and then threatens to kill everyone on the base by venting some gas.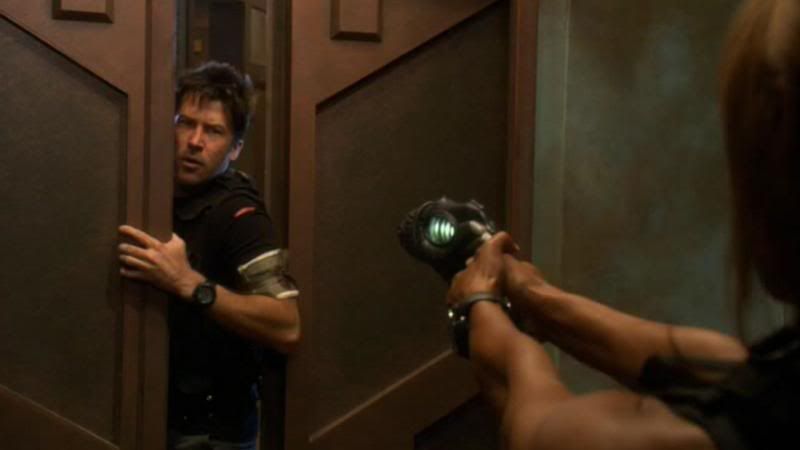 Then, because this episode wasn't awesome enough, Teyla shoots Sheppard. This does not surprise Elizabeth because she knows how great Teyla is.
Sheppard gets tied up because the writers really want to spoil me.
Then there's more taunting by evil possessed by an alien Elizabeth. And she asks Teyla to shoot John or she will kill all the other people on the base.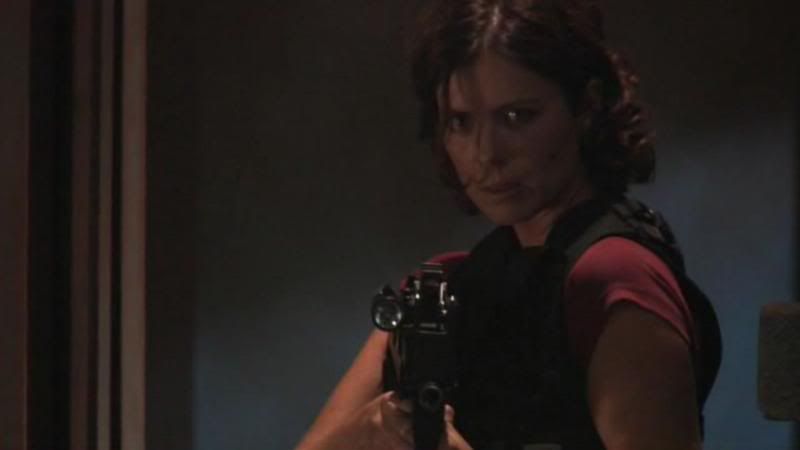 That plan doesn't quite work out so she arrives to do the job herself.
Sadly she also gets knocked out. Then there's an embarassing scene afterwards in the infirmary.
Elizabeth starts to remember
all the fun she had
all the terrible things she did.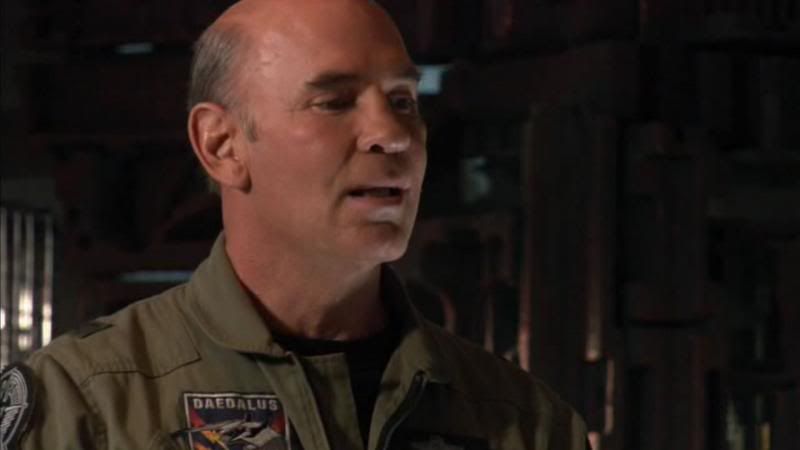 Caldwell arrives to remind them about the snogging.
Yep. That's going to be an embarassing report to make.
Now let me vent my spleen about the last episode of season 4.
So, right, as if I didn't hate Rodney McKay enough they give me this episode. Which also made me hate the new doctor too. Okay, Michael is wiping out the galaxy with his new superwraith. Teyla dies. Ronon and Carter die trying to fight back. Then there's a new change of plan which involves not helping anyone outside of Atlantis. Fair enough: McKay and new Doctor lady are pissed at this. So what do they do? THEY RESIGN AND FECK OFF BACK TO EARTH IN PROTEST. Do they spend their time sending help to Pegasus? Of course not! They're too busy snogging and going into business for themselves. WHAT THE FUCK?????? I'm supposed to think of this as being a moral decision? The only thing that makes McKay change his mind and decide to help out is that the new Doctor lady gets the coughing disease and is going to die. That's the only reason we're given. I HOPE ROCKS CRUSH THE TWO OF YOU AND YOU GET SOME HORRIBLE ALIEN FUNGAL INFECTIONS.
Ahem.